These Are the very best Artworks Releasing This Week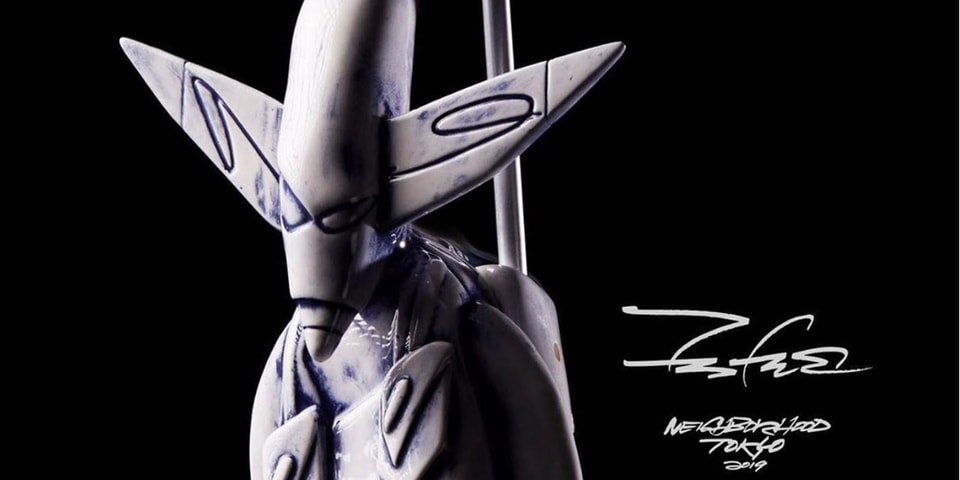 Every week we highlight the best art releases weekly by notable artists, galleries, museums and contemporary art platforms across the globe. Listed items generally include restricted edition art work, prints, collectible figures, collaborative merchandise and more.
For this week's installment: Futura partner with COMMUNITY on a collective 'FL-001' incense chamber, Cleon Peterson and Modernica come together for a limited edition furnishings series, Avant Arte taps Vhils for two sculpture editions, Print Them All signs up with forces with Cryptik to launch 'The Divine Letter' lithographs, and Taschen releases tarot cards created by Salvador Dalí.
View the complete list listed below.
Futura x COMMUNITY 'Fl-001' Incense Chamber
Icnclst/Neighborhood
Release Date: November 16 exclusively on AREA's site and the brand's Tokyo store

Release Price: TBD
To commemorate his upcoming " GENERATION Z" exhibition at The Mass gallery in Tokyo, Futura debuts a super-limited 'FL-001' incense chamber made in collaboration with NEIGHBORHOOD. Sized at 315 x 110 mm, the ceramic sculpture draws motivation from the legendary graffiti artist's signature 'Pointman' character in a blue porcelain finish. The sculptural edition is limited to 100 units. Each work is numbered with a correlating micro military canine tag locket and will be available on November 16.
COMMUNITY TOKYO

4 Chome − 32 − 7 1F

Jingumae, Shibuya City

Tokyo 150 -0001

Japan
Cleon Peterson x Modernica Furnishings Collaboration
Modernica
Release Date: Offered to buy on Modernica's website

Release Cost: Varying from $875 to $8,500 USD
Acclaimed visual artist Cleon Peterson partnered with Modernica on series of limited edition furnishings. The artist's black and white 'Land of Shadows' art work covers the LA-based brand's modular daybed and renowned Fiberglass Shell Chair. The Daybed and Sectional pieces are restricted to a quantity of 50, while the Rocker chair is limited to 100 pieces.
Vhils x Avant Arte 'Vista' Sculpture Editions
Avant Arte
Release Date: Available to preorder on Avant Arte's site

Release Rate: $ 6,00896 USD each
Avant Arte signed up with forces with artist Alexandre Farto aka Vhils on two special sculpture editions. The three-dimensional pieces titled 'Vista Series # 2' and 'Vista Series # 3' depict abstract, relief pictures of nameless human topics. The very first work is sized at 27 cm x 23 cm x 5.6 cm while the second variant steps 27 cm x 23 cm x 6cm. Each signed and numbered edition comes in a wood frame and restricted to 20 systems each. Both works were crafted utilizing 3D nylon SLS print.
Cryptik x Print Them All 'The Divine Letter' Lithographs
Print Them All
Release Date: Offered on Print Them All's website at 12 p.m. EST on November 14

Launch Rate: $725 USD each
Commemorated calligraphist Cryptik teamed up with Print Them All for his biggest print to date, titled 'The Divine Letter.' For his newest work, Cryptik was motivated by the great Sufi mystic and poet, Rumi. The lithograph stimulates the timelessness, secret, and spiritual mentors of the Sufi master. Readily available in four color variations, Cryptik's brand-new series of lithographs present the sacredness of Rumi's words and the "long-forgotten knowledge of our forefathers," according to a declaration.
Salvador Dalí-designed Tarot Cards from Taschen
Taschen
Release Date: Offered to preorder on the Taschen's site

Release Cost: $60 USD
Leading book publisher Taschen just launched a deck of tarot cards developed by the famous Spanish surrealist, Salvador Dalî. The artist was at first commissioned by the late American movie manufacturer, Albert R. Broccoli, to create initial artwork for a set of cards for the 1973 James Bond film, 'Live and Let Pass Away.' The tarot card set encompasses 78 cards that draw inspiration from Western masterworks (classical to contemporary) along with Dalí's surrealist concepts.